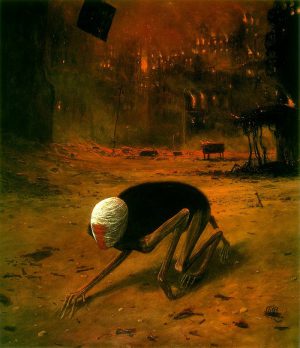 Step into the surrealistic dystopian world of Polish artist Zdzislaw Beksinski  (1929-2005)
The dark and powerful paintings of Zdzislaw Beksinski have been described as hellscapes or living nightmares – terrifying, surreal, grotesque, and apocalyptic. His work has often been compared to that of the great European masters of Dark Art, HR Giger and Hieronymus Bosch.
You might say Beksinski was exploring the darkest corners of his mind through paintings, photographs, and sculptures that rival the most extreme artistic depictions of Hell, with plenty of unsettling images, copious gore, and melancholy color schemes.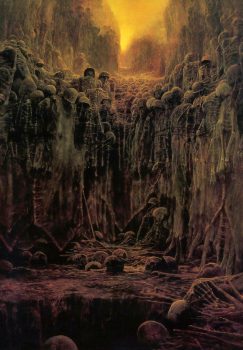 Perhaps his dark, dystopian art can be attributed in some part to the circumstances of his childhood.
Beksinski was born in 1929 in Sanok, a town in the southeastern corner of Poland, where he experienced first-hand the Nazi occupation and the horrors of war at a young age. Then after the war, he lived under a Communist regime and Soviet oppression of his homeland. It seems to make sense that this would be reflected in his art.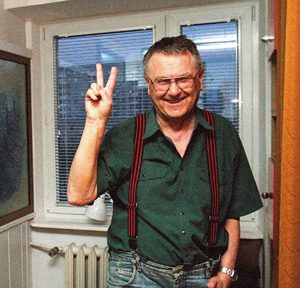 However, despite the macabre nature of his work and nightmarish subjects, most of his contemporaries described Beksinski as a pleasant and easygoing guy with a good sense of humor.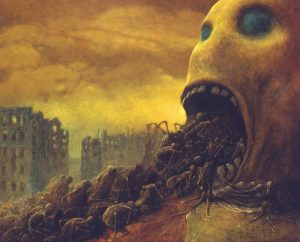 Beksinski described his sources of inspiration as coming from a desire to "paint in such a manner as if I were photographing dreams."
Interestingly, he never assigned titles to any of his works. He stated that it was because he didn't want to influence the viewer's interpretation of his art, and that its meaning should be up to the viewer's imagination.
Another Beksinski Fun Fact – he didn't grow up wanting to be an artist. After the war, he studied architecture in college, but didn't find it fulfilling. He later turned to painting and photography, in which he was entirely self-taught.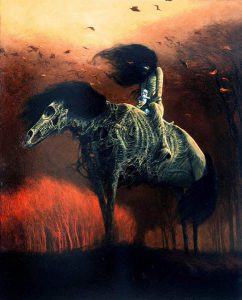 Sadly, the darkness that haunted Beksinski throughout his life continued to follow him as he grew older. In 1998, his beloved wife Zofia died of cancer, and a year later, his only child, Tomasz, committed suicide.
He met his own tragic end in 2005 when he was murdered in his apartment, stabbed to death by the 19-year-old son of his trusted caretaker. Apparently, the young man had asked him for a loan (about $100) and killed him when he refused.
All things considered, it isn't surprising that many people think there's a curse on Beksinski's works. Gazing into the depths of his nightmarish dreamscapes, you might just believe it.
If you ever find yourself in the Southeastern corner of Poland near the town of Sanok, you might pay a visit to the Zdzislaw Beksinski Gallery, where over 600 pieces of his art are displayed. My own ancestors came from the Sanok area, so when I make that bucket-list trip, it will be first on my to-do list!
If you'd like to see more of Beksinski's unforgettable art, I've posted some of his work on my Pinterest page. You can also check out this article or the website of the Sanok museum.