Yes, it's true! Last year I posted an article about the Clown Motel in Tonopah, Nevada, when it was named the "scariest motel in America." Now I'm happy to report that this terrifying haunted landmark is about to be the subject of its own horror movie, appropriately named… (wait for it!)… Clown Motel!
Located on a long stretch of lonely deserted highway about 250 miles northwest of Las Vegas, the Clown Motel, as the name suggests, is packed from top to bottom with clowns.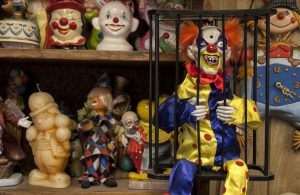 Big clowns and little clowns. Happy clowns and scary clowns. The entire place is filled with creepy clown figurines, dolls, mannequins, paintings, and occasionally even live clowns. Just try getting a good night's sleep after seeing the motel office, every inch of available space packed wall-to-wall with hideous clowns. Truly nightmare fuel for those who suffer from coulrophobia – a deep-seated fear of clowns.
To make things worse, it's right next door to a cemetery filled with the graves of people who died under mysterious circumstances
It's about time someone finally realized that this place would be the perfect setting for a horror film, and now the Clown Motel is getting its well-deserved moment in the spotlight.
The plot, as you might expect, isn't exactly Shakespeare. Basically a group of ghost hunters crosses paths with the attendees of a Vegas bachelorette party at the Clown Motel… soon to find out for themselves if the abandoned motel really is haunted by the ghosts of the clowns who once lived there.
Directed and written by Joseph Kelly, Clown Motel also includes performances by horror veterans Tony Moran (Halloween) and Ari Lehman (Friday the 13th).
What I want to know is… what took them so long?
Clown Motel drops direct to video on June 4th.