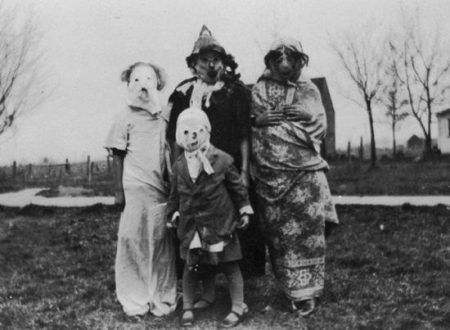 Before Halloween became a cultural phenomenon, it was a simpler affair.
Halloween used to be a homemade holiday. For instance, no one debated the merits of  giving out "Fun Size" vs "Full Size" candy bars. Halloween treats were usually simple fruits, nuts, or homemade sweets.
Store-bought costumes weren't a thing until the 1930s. Before that time, you couldn't just go to a store and buy a costume off the shelf. Even then, there was no such thing as a "Halloween store;" that phenomenon that didn't catch on until the early 1980s. And the cheap Asian imports – affordable boxed nylon superhero, monster, and princess costumes at Kmart or Woolworth's that were all the rage when I was a kid – didn't hit the market until after World War II.
Back in the days of our grandparents and great-grandparents, most costumes were handmade from old clothing and assorted materials at home. Yet some old-school costumes are more chilling than anything you'll find in a plastic bag at Halloween Express!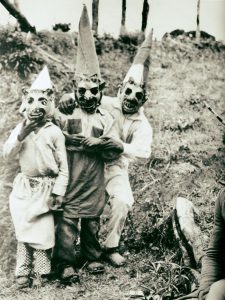 In some ways, I think Halloween was spookier back in those days before it became commercialized.  Newspapers frequently published accounts of ghost sightings and mysterious monsters as verifiable fact.
Also, our ancestors in the 19th and early 20th centuries were more likely to believe ghost stories and tales of the supernatural than we are today in our skeptical society.
Maybe people back then were closer to the tales their ancestors brought over from the Old Country about lurking devils, deadly strigoi, and malicious pixies. Perhaps that explains how they were inspired to make their own simple costumes that you might find more disturbing than any modern off-the-shelf zombie or vampire.
Check out this fascinating photo collection at The Occult Museum – you may get a dose of inspiration for Halloween 2019!
You might also enjoy my Pinterest board devoted to Vintage Halloween.