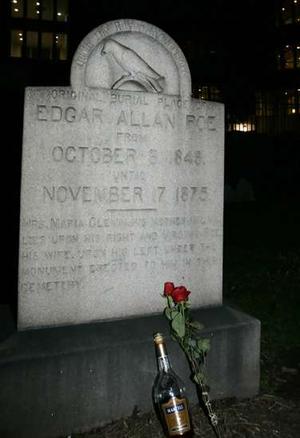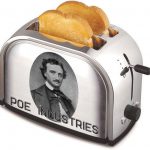 Though it sounds like a kitchen appliance you might use to make a gloomy breakfast, the Poe Toaster is actually part of a longstanding Baltimore tradition honoring the life and legacy of Edgar Allan Poe.
The Godfather of Horror Fiction had strong ties to Baltimore. It's where his family was based, where he lived and worked for years, and where he launched his literary career. It was also the place from which he departed this world on October 7, 1849, at the untimely age of 40. The mysterious circumstances of his death have been a topic of debate and rampant speculation for nearly 170 years.
On September 27, 1849, Poe got on a train in Richmond, traveling to his home in New York, but never arrived at his destination. He went missing for several days before he was found lying desperately ill, disheveled, and delirious in a Baltimore tavern, dressed in filthy clothes that were not his own. Poe was taken to Washington College Hospital, but nothing could be done to save him, and he died a few days later.
Speculation about what misfortune befell him continues to this day. Did he die from rampant alcoholism or drug addiction, as some of his detractors claimed? Or was it meningitis, a brain tumor, or maybe even rabies?  Was his desperate condition a result of being robbed and beaten or perhaps a suicide attempt?
Poe was never coherent enough to tell his caretakers what had happened to him, so no one knows the real story of how he ended up in such a terrible state, what killed him, or his whereabouts for the six days he was missing.
*****
Unfortunately, Poe had never achieved much financial success in his lifetime, and his meager, poorly-attended funeral was paid for by family members. His body was laid to rest in an unmarked grave in the family plot at the Westminster Hall Burial Ground. Over the years, as the world came to appreciate Poe's genius, Baltimoreans commissioned a suitable cenotaph to honor his memory, and his remains were moved to a new, more prominent location in the churchyard in 1875.
Then at some time beginning as early as the 1930s, a curious occurrence was noted. Every year in the wee hours of January 19 – the anniversary of Poe's birth – a man dressed all in black with a white scarf and his identity concealed beneath a wide-brimmed hat was observed to appear at the cenotaph marking Poe's original grave. The shadowy figure would pour himself a glass of cognac to toast Poe's memory, recite a few words, then disappear into the night, leaving behind the half-empty bottle and three red roses.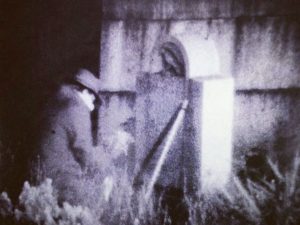 No one is sure why cognac is the Toaster's drink of choice; unlike Amontillado, it's never mentioned in any of Poe's stories. Nor is the meaning of the three roses definitively known, though Poe enthusiasts think it represents the three individuals whose remains rest beneath the stone: Poe, his wife, Virginia, and his aunt/mother-in-law, Maria Poe Clemm.
A small group of onlookers would assemble every year, hoping to catch the publicity-shy Toaster in the act, but he was always very stealthy and was rarely seen or photographed.  Out of respect for his mission, no one ever tried to unmask the visitor.
In 1993, the Toaster left behind a cryptic note reading "The torch will be passed." Some believed that the original Toaster had died or retired, and his sons would continue the tradition. Perhaps that was the case, but his successors didn't seem to take the ritual as seriously. In the 2000s, the Toaster sometimes showed up in street clothes, occasionally leaving inappropriate notes that were out of character. Another man claimed to have been the Poe Toaster, but his story didn't quite add up.
For whatever reason, the visits inexplicably ended in 2009, the 200th anniversary of Poe's birth. Jeff Jerome, former curator of the Poe House and Museum, believes that the Toaster may have decided that Poe's bicentennial was a fitting time to retire the tradition.
After several Toasterless years, someone in Baltimore got smart and realized the value of Poe and his legacy to Baltimore tourism (Poe fans are a devoted bunch). In the words of Poe Baltimore director Lisa Lewenz, Poe remains relevant in that "he was an outsider who touched darkness… we all recognize that part of ourselves in his work, regardless of personal background."
So in 2015, the Maryland Historic Society and Poe Baltimore held an American-Idol-type competition to name a new Poe Toaster and created an annual event around it. Though the Poe Toaster tradition is now more organized, it still remains a poignant celebration of the author's life.
Instead of the stealthy late-night visits, the new Toaster made his first appearance during the daylight hours of January 16, 2016 (a Saturday, three days before Poe's actual birthday), wearing the traditional costume and playing Saint-Saens' Danse Macabre on a violin.
After raising the traditional cognac toast and placing the roses, he intoned "Cineri gloria sera venit" ("Glory paid to one's ashes comes too late") and departed.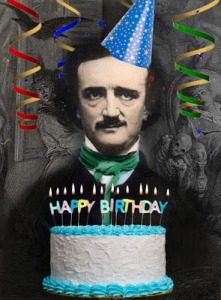 This year, Westminster Hall partnered with the Historical Society to throw a real birthday party for Edgar with theatrical readings of his works, a musical performance, a Poe-themed birthday cake, an apple cider toast to Poe, and an appearance by the Poe Toaster himself.
The plan is for the new Poe Toaster's identity, like that of his predecessor, to remain a mystery.