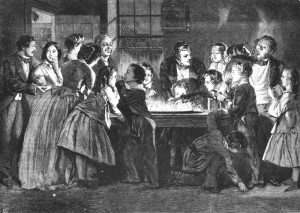 Traditionally, the Winter Holidays came to an end on Twelfth Night (January 5), after which Epiphany marked the beginning of the new church year. So there's still a little time this week to squeeze in a little last-minute old-school holiday fun with Victorian Christmas Games.
Actually, the most exciting and outrageous Victorian Christmastime traditions have been almost totally forgotten. Indeed, in the early years of Queen Victoria's rule, Christmas rivaled Spring Break for sheer bawdiness and self-destruction.
That's right – as far as Victorian Christmas activities go, if no one's puking, bruised, or on fire, you're not doing it right.  Read the entire article at Atlas Obscura.