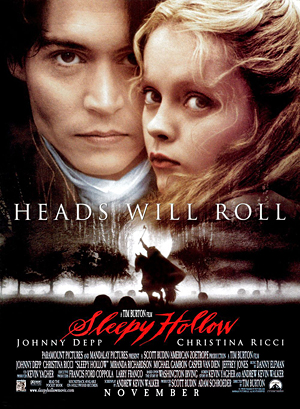 Director:  Tim Burton
Stars: Johnny Depp, Miranda Richardson, Christina Ricci
Snack Report:  Korean Pork Jerky (Costco)
Viewing Companions:  Zelda, Mr. Falbeaux
There was a time when I was a lot more in love with Tim Burton and Johnny Depp than I am now.
Tim hooked me with Pee-Wee's Big Adventure (1984) (still one of my top 10 all-time favorites) and kept me spellbound through Beetlejuice (1988), Edward Scissorhands (1990), and The Nightmare Before Christmas (1993). Ed Wood (1994), as you can imagine, had me in a delirious state of Burton/Depp rapture. Then Mars Attacks! (1997) came along, which definitely had its moments, but I sensed a disturbance in the Force.
Burton's more recent films just haven't captured my fancy the way they used to. Planet of the Apes (2001) bored me. And let's not even talk about Charlie and the Chocolate Factory (2005) or Alice in Wonderland (2010) or Dark Shadows (2012).
His last film that I really loved was tonight's Fright Night Feature, Sleepy Hollow (1999). Burton claims that Sleepy Hollow was inspired by the Gothic horror of Britain's Hammer Films and Italian giallo master Mario Bava. It was his last film that I felt was part of the dark, dreamy, eccentric vision that to me was his true brilliance.
One of Sleepy Hollow's greatest strengths is its magnificent cast. With Oscar winners like Martin Landau (who took a brief carriage ride past the pumpkin-headed scarecrow from the opening of Nightmare Before Christmas), Hammer Films veterans like Christopher Lee, and even actors from the Harry Potter films (Michael Gambon, Miranda Richardson, Richard Griffiths) and Star Wars (Christopher Lee, Ian McDiarmid) – even many of the smaller roles are noteworthy in the hands of these heavy hitters.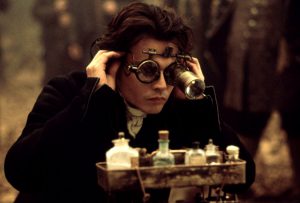 Johnny Depp, however, steals the show as he inhabits the role of Ichabod Crane with panache.
Often nervous and squeamish, at other times arrogant, sometimes courageous, he effectively conveys all of it through his expressive face and body language.
Depp was quoted as saying he based his character on Vincent Price, Basil Rathbone's interpretation of Sherlock Holmes, and Roddy MacDowall's performance in Fright Night (1985).
(I used to think Johnny Depp was one of the greatest actors of my generation, but then he abandoned the quirky, challenging roles he used to specialize in and now acts in dreck like Pirates of the Caribbean XXXII: Thar She Blows for that sweet, sweet Disney paycheck.)
The film, of course, is based on the short story "The Legend of Sleepy Hollow" by Washington Irving. But in Burton's interpretation, Ichabod isn't a schoolteacher but a police constable whose fixation on scientific methods of detection gets on the nerves of his colleagues and superiors. Ichabod is dispatched to a quiet Hudson Valley village in the closing days of the 18th century (partly to get him out of the magistrate's hair/wig), where his mission is to put his unorthodox theories to the test and solve the mystery of who is beheading the townspeople.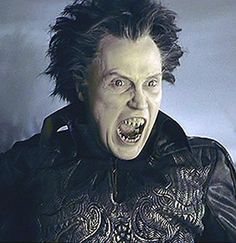 Turns out the quiet town has more than its share of dark secrets, with plotting and intrigue and black magic bubbling below the surface. Crane haughtily dismisses the locals' belief that the murders were committed by the ghost of a Hessian mercenary from the Revolutionary War. But as more and more of Sleepy Hollow's citizens are parted from their heads, Ichabod digs deeper, coming closer and closer to a final showdown with the Headless Horseman (played with obvious glee by Christopher Walken).
In short, Sleepy Hollow is a thrilling gothic horror film with brilliant art direction and cinematography propelled by a dream-team cast.  I most heartily recommend it for your Halloween-season movie agenda.
I keep praying that Tim Burton will come to his senses, stop making Disney-style garbage (horrors of a different kind, in my opinion), and return to his dark gothic roots that made me a shameless fangirl. There's a rumor that Beetlejuice 2 is on its way. Fingers crossed!