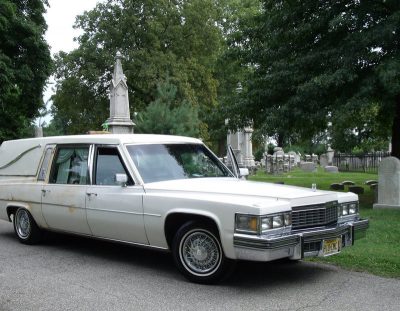 Once upon a time, when you died, your simple pine coffin was carried to the graveyard on a basic no-frills horse-drawn cart. But as the American funeral industry evolved, so did the art of corpse transportation. Changing attitudes toward death in the Victorian era led to more elaborate mourning rituals and a trend toward sprawling, beautifully landscaped "garden" cemeteries. Hearses also became bigger and fancier – a classier way to take your last ride. That trend continued even after automobiles caught on, and manufacturers kept making hearses bigger and more elaborate – sleeker, shinier, and loaded with chrome.
But what happens to those hearses after they've carried their last dearly departed passenger? Where do hearses go when they retire?
The answer, of course, is that they're often junked like any other car—but some are lucky enough to be scooped up by curators, scholars, and collectors.
In one such restoration story, the hearse (once belonging to a Memphis funeral home) that carried the body of Dr. Martin Luther King, Jr., languished 40 years in a warehouse before it was rescued and lovingly restored by a collector.
Read more about hearses and their Final Resting Places at Atlas Obscura!