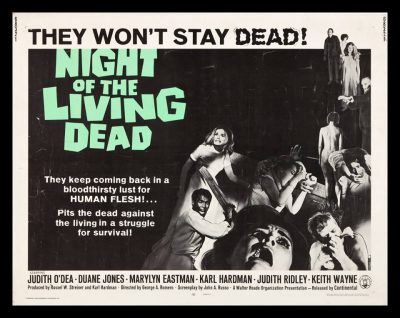 It's a shame that George Romero didn't make it to see the 50th anniversary of the premiere of Night of the Living Dead.  Though he made many more films in his long career, NOTLD will always be his magnum opus.
Because of its iconic status, I chose NOTLD as the final film in my 31 Fright Nights Challenge last year, viewing it on Halloween night. I wrote a detailed article about the film with a good bit of background information and some interesting trivia about NOTLD, which you can read here. As you can imagine, there are plenty of behind-the-scenes stories about the making of the first modern zombie movie.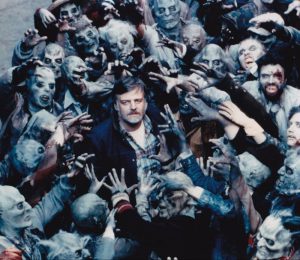 Perhaps the most interesting thing about the film is how it was created with such limited resources, basically cobbled together on a bare-bones (ha ha) budget by a bunch of young actors and filmmakers. For example, the horrifying basement scenes were shot in the basement of an office building in Downtown Pittsburgh. And Evans City Cemetery was chosen as the location for the opening scene because it was so isolated and less likely to attract gawkers (or cops who might want to see a filming permit!).
My favorite factoid about NOTLD is that George Romero wanted to cast his friend, local Pittsburgh actress Betty Aberlin, as Barbara, but her boss said NO. You may know her as Lady Aberlin on Mister Rogers' Neighborhood, and of course, her boss was Fred Rogers. Her career might have had a very different trajectory…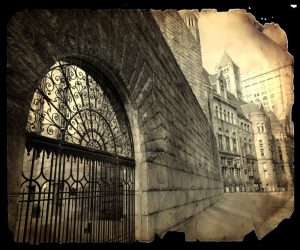 For a hometown perspective on the 50th anniversary of Night of the Living Dead, please enjoy this excellent guest article about the film's debut, its timeliness, and its social relevance – courtesy of our friends at Haunted Pittsburgh!
And while you're at it, why not book a Downtown Pittsburgh Ghost Tour and check out some of the Steel City's haunted highlights?
The 50th Anniversary of Night of the Living Dead
Every day, thousands of people ride by a garden-variety building at 247 Fort Pitt Boulevard in downtown Pittsburgh without realizing that the modern zombie movie genre was born there. A company called Latent Image used to have its offices up on the fifth floor–it made industrial films and local television commercials for companies like Iron City Beer, Duke Beer, and Calgon and was run by wannabe filmmakers George Romero, Russ Streiner, and John Russo. In 1968, on a shoestring budget, they made a feature-length film called Night of the Living Dead that raised "gruesome" to a stark, brutal art form and became one of the most influential horror films ever made.
Everyone knows that the iconic opening graveyard scene was shot at Evans City Cemetery. But the scenes set in the basement of the farmhouse–including one of the most gruesome moments in a film that epitomized gruesome, where a little girl zombie devoured her father–were shot in the basement of 247 Fort Pitt Boulevard.
On October 1st, NOTLD marks the 50th anniversary of its premiere. Fans of The Walking Dead and every other zombie incarnation owe the Latent Image boys a debt of gratitude. Romero quietly passed away in July of 2017 while listening to the score of one of his favorite films, John Ford's The Quiet Man–about as far removed from NOTLD as you can get–but Streiner (the film's producer and "Johnny"–the first victim) and Russo (co-writer) survive. In the decades following NOTLD, Streiner has played a critical role in making Pittsburgh a bona fide destination for filmmakers, something unimaginable before NOTLD. And Russo is truly the co-godfather of the zombie genre, with Romero.
NOTLD premiered at the Fulton Theater (now The Byham) on Sixth Street in Downtown Pittsburgh on October 1, 1968. The next day, the Pittsburgh Press, the city's leading newspaper back then, said it was "so grisly" that "it even shook up the hardiest of chiller-thriller fans." The Press hailed it as "a rouser for the strong-stomached, horror film addict." A chorus of critics agreed: "…one of the best horror films ever made." (Andrew Sarris, The Village Voice) "One of the most gruesomely terrifying movies ever made . . . ." (Pauline Kael) "If you do like horror films, this may well be the most horrifying ever made." (Elliott Stein, Sight and Sound).
But, of course, some critics just didn't get it. Irritable Vincent Canby of the New York Times wrote: "Night of the Living Dead is a grainy little movie acted by what appear to be nonprofessional actors, who are besieged in a farm house by some other nonprofessional actors who stagger around, stiff-legged, pretending to be flesh-eating ghouls." Canby couldn't even bring himself to mention Romero and the others by name, saying only that the film "was made by some people in Pittsburgh." History proved Canby's churlish remarks a notable misfire.
The day after the film premiered, a newspaper ad announced that anyone frightened to death by the film would be insured for $50,000, a la schlockmeister William Castle (John Goodman's character in the film Matinee was based on Castle). The Latent Image boys knew something about marketing, given their backgrounds making television commercials.
NOTLD was a team effort–aside from Romero, Streiner, and Russo, there was also Karl Hardman, co-producer and angry "Harry Cooper" (he was the one who got eaten by his daughter). Hardman was an alumni of Cordic & Company, Pittsburgh's most-popular-ever radio show. And there was Charles Craig, the chillingly realistic newscaster. And Judith O'Dea coming unglued while Duane Jones—a fine actor–tried to inject rationality into madness. And Bill Hinzman, who killed "Johnny" in the opening scene and who is still the best zombie ever to stagger through a cemetery.
And we can't forget everyone's favorite snippet of dialogue–between the field reporter, played by late Pittsburgh broadcasting icon Bill "Chilly Billy" Cardille, and the sheriff, played by the late great George Kosana (also the film's production manager):
CARDILLE: Are they slow-moving, chief?
KOSANA: Yeah, they're dead. They're all messed up.
Kosana also delivered the film's greatest line, at the end of the film: "That's another one for the fire."
The film should have made its investors rich but it didn't–the distributor forgot to put the copyright notice on the theatrical prints, and the film ended up in the public domain.
I once took a group to the Evans City Cemetery and showed them the spots where the action occurred in the film's memorable first scene. Despite some notable changes, overall, the grand old burying ground looks a lot like it did on that day in 1967 when Pittsburgh's first-ever film crew arrived and, in his best Boris Karloff, Russ Streiner snarled, "They're coming to get you, Barbara!" On our visit, I had no sooner explained to our group that NOTLD devotees from around the world make pilgrimages to the beloved cemetery when, as if on cue, a car pulled up and a man from the Philippines got out. He told me that he, too, had come to traverse hallowed horror film ground, though his journey was a lot longer than ours.
On the evening that NOTLD premiered at the Fulton way back on that October evening in turbulent 1968, a few blocks away, the mammoth Warner Theater on Fifth Avenue was showing Stanley Kubrick's landmark 2001: A Space Odyssey. Oakland's King's Court had Zero Mostel and Gene Wilder in Mel Brooks' classic The Producers. And, of course, there were far more serious things going on, too. Richard Nixon and Hubert Humphrey were in a heated battle for the presidency, and the question of whether to halt the bombing in North Vietnam had become a campaign issue–proving once more that real life is more frightening than anything that can be conjured up by Hollywood.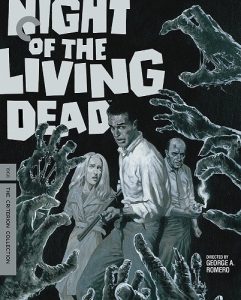 Click here to purchase the Criterion Collection's new 4K digital restoration of Night of the Living Dead with many, many extras that will delight the most hardcore fan!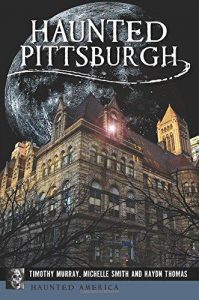 From the curators of Pittsburgh's supernatural legacy – this collection goes far beyond the Ghost Tours and includes some of the Steel City's most compelling ghost stories as well as many more eerie tales from around the region!