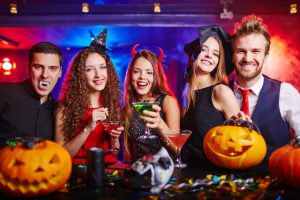 Halloween… It's not just for kids anymore!
It's official!  Mental health experts are encouraging adults to celebrate Halloween because it's good for your "emotional fitness" – the perfect excuse to indulge yourself, play pretend, and be who you want to be, just for one day.
When we Americans over a certain age (those of us old folks in the pre-Millennial generations) were growing up, Halloween was mostly a holiday for kids. Halloween parties for adults were uncommon. Home decorating mostly consisted of cheap paper skeletons, black cats, or witches, orange and black crepe paper, and a hastily carved jack-o-lantern or two. Participation in the Halloween fun for grown-ups was more or less limited to hanging a few decorations and (more importantly) buying and distributing candy to the trick-or-treating hordes.
Somewhere along the line, things began to change, and today Halloween isn't just for kids anymore. Now adults are "getting into the spirit of things" and celebrating Halloween in a very big way with fabulous parties, elaborate home haunts, and high-quality adult-sized costumes.
Not that there's anything wrong with that.
With the current state of affairs in our country, we need to find as much joy in life as we can. Taking the opportunity to celebrate and have fun on Halloween is emotionally healthy. Therapists actually counsel couples who are having marital issues to put them aside for the holiday and either stay home and give out candy together or get dressed up and go out themselves. (Of course, you can always do both!)