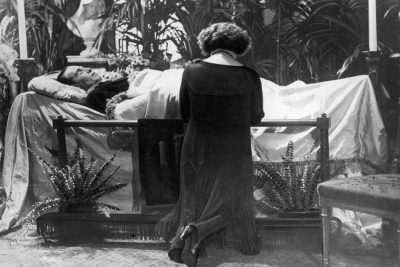 Rudolph Valentino (1895-1926) was indisputably one of the greatest stars of Hollywood's Silent Era. The wildly popular "Latin Lover" was without a doubt the greatest sex symbol of early Hollywood, but his career was a short one: Valentino died unexpectedly, succumbing to peritonitis from perforated ulcers at the age of 31.
His death on August 23, 1926, (92 years ago this week) caused mass hysteria among his devastated fans. An estimated 100,000 mourners packed the streets outside the funeral home where his body lay in state, and a riot erupted when frenzied fans tried to break in to get a last glimpse of their idol. Several suicide attempts were attributed to grief over Valentino's death.
Well, after he worked so hard to become a movie star, Rudy wasn't about to let a little thing like death slow him down, and they say his ghost haunts all his former homes as well as a number of other Los Angeles locations. Not only that, but he also left behind a cursed ring that has continued to bring bad luck long after his demise.