In his 40 short years on this earth, Edgar Allan Poe lived a rather nomadic life. He lived in multiple east coast cities, including Boston (where he was born and returned years later), Baltimore, Richmond, Charlottesville, New York City, Providence, and Charleston. Though he never really found much success and/or approval in any of those cities until long after his death (due in part to the posthumous trash talk that ruined his reputation), all of them now have dedicated Poe historic sites.
Though he only lived there for a few years in the 1830s, Baltimore was significant for being the place where Poe launched his literary career, as well as the place where his life tragically ended in 1849 and he was laid to rest.
More than any of the other cities he called home over the years, Baltimore is the one that has truly claimed Edgar for its own. Baltimore has more than its share of Poe landmarks, and since the city realized the fanatical devotion of his fans, it has fully embraced PoeMania. They even named their football team with him in mind.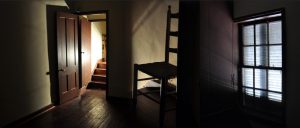 The Edgar Allan Poe House and Museum at 203 North Amity Street is an absolute must-see for Poe lovers. It's been painstakingly restored to its appearance in the mid-1830s when Edgar lived there with his aunt and two cousins (one of whom was Virginia, his future wife).
The next step on your Poe tour should be the Westminster Burying Ground, just a short distance away. Edgar is interred there alongside his beloved Virginia and aunt/mother-in-law Maria Clemm. A number of other Poe family members also reside there. The cemetery is also the site of the annual Poe Toaster ceremony which now even includes a birthday blowout every January.
Once you've checked out the various Poe-related historical locations, why not refuel at one of the local Poe-themed restaurants and bars? One of these is the tavern where it's believed he took his final drink. His ghost, some say, is still haunting the place.
*****
If you're a Poe fan, a visit to Baltimore should certainly be on your bucket list. This interesting article from Washingtonian Magazine (written by a distant Poe relative!) will help guide you to the hot spots.
Want to take a virtual tour of Poe's Baltimore home? Click here! 
There's also a Poe Museum in Richmond, where Poe lived at various times in his life from his youth through adulthood. Read about it at Atlas Obscura.