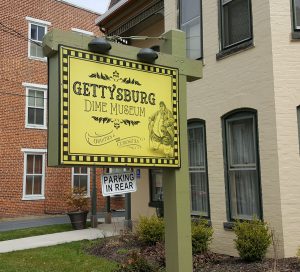 A refreshing change from Gettysburg's plentiful Civil War museums and memorials, this delightful cabinet of curiosities is (unfortunately) in its final season.
Gettysburg, Pennsylvania, is a town whose claim to fame is history. The quaint streets and surrounding countryside of this lovely south-central Pennsylvania town are practically stuffed with museums, war memorials, and historical sites.
Gettysburg is best known, of course, for its pivotal role in the Civil War and was the site of one of its bloodiest battles. Considering the town's violent past, it's not surprising that paranormal investigators have declared it to be bursting with supernatural activity. So naturally, there are quite a few ghost-themed tourist attractions in Gettysburg as well.
There's one attraction, however, that is different from all the rest – the Gettysburg Dime Museum.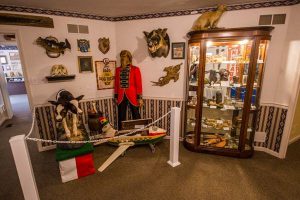 Dime museums, the National Enquirers of the museum world, were big in the 19th and early 20th centuries. Rather than cultivating education and exposing the public to high culture, they were meant to titillate the lower classes with oddities and curiosities, especially the human type – in other words, freak shows.
Despite their reputation for lowbrow entertainment (or perhaps because of it?), they were exceedingly popular, especially in urban centers where there were a lot of poor people and immigrants who couldn't afford the more refined amusements of the upper middle class.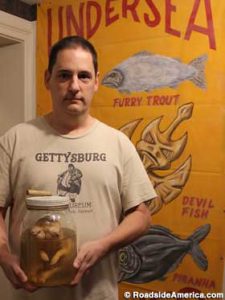 Museum founder Mark Kosh has had a lifelong fascination with these old sideshow exhibits. He began seriously collecting them in the mid-90s; then a few years later, he began displaying his collection at local fairs and events.
Eventually, Kosh decided to create a more permanent home for his treasures, and the Gettysburg Dime Museum, a 21st century recreation of the popular old-time crowd-pleasing attraction, was born.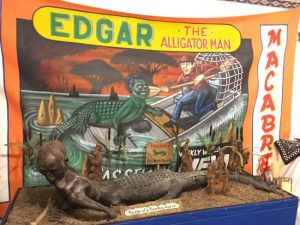 Packed wall to wall with various oddities and curiosities, the museum exhibits a mixture of authentic and not-so-authentic artifacts.  Exhibits include serial killer memorabilia, freaks of nature, true crime, voodoo mysteries, legendary creatures, historical enigmas, wonders of the world, and medical quackery.
Some displays are clearly fake (such as the mummified remains of a demon), while others are obviously real (like the three-legged chick). Some are harder to figure out. These include things like shrunken heads, a lock of Charles Manson's hair, and personal items of John Wayne Gacy. Of course, the whole concept of the sideshow was to leave visitors scratching their heads and unsure if what they saw was real or fake.
But the museum's most notorious exhibit is what is claimed to be President Abraham Lincoln's last bowel movement. Yes, you read that correctly.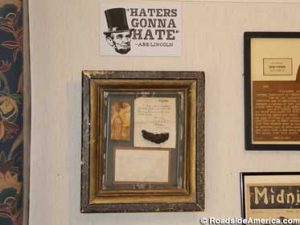 The petrified piece of presidential feces, lovingly preserved in a glass case, is simultaneously disgusting and fascinating. It's presented with supporting exhibits including a handwritten letter attesting to its authenticity, and another typed letter debunking it as the work of a "fecal forger." As with everything else in the Gettysburg Dime Museum, visitors can decide for themselves about its authenticity.
Sadly, the 2018 season will be the final curtain for the Gettysburg Dime Museum, with its last day of operation on Saturday, November 17th. So if your life won't be complete until you've seen a presidential turd, a three-legged duck, a stuffed demon, or a real shrunken head, better get a move on.
For more information, visiting hours, and lurid photos, please visit the museum's website or their Facebook page.