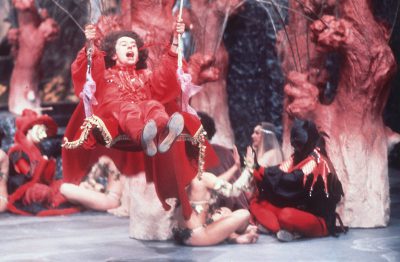 For a short time in 1978, Italian TV viewers could enjoy a musical/variety show with Grace Jones, medieval satanic imagery, and even a cameo from the Devil himself.
Picture, if you will: A lithe blonde woman climbs onto a translucent, elevated platform, wearing a crimson sequined unitard and opera gloves. "Give a little 'mmm' to me, and I give a little 'mmh' to you," she sings hoarsely, while backup dancers in goblin and sorcerer-like attire stare at her from the sidelines. She then proceeds to cuddle the three black kittens huddled at the center. The animal is almost limp in her hands. "Are you devil or angel?" she asks, crawling on all fours like a feline. "Are you question or answer?"
What might sound like a show curated by a Brooklyn experimental arts venue is actually a piece of footage from Stryx, a variety show that ran on RAI, Italy's national television network, in the fall of 1978. The performer was Amanda Lear, the French-born entertainer and gay icon who was a muse to David Bowie and Salvador Dalí in the 1960s, then reinvented herself as a disco queen in Italy, France and Germany in the 1970s.
How did Stryx, a primetime show featuring explicit sexual imagery and sorcery-related symbolism, land on the national television network of a country ruled by the Christian Democracy party?
Writer/Director Enzo Trapani claimed it was a late night phone call from the Devil himself – whining about his lack of TV coverage – that inspired him to create the show.
(If you want to see it for yourself, video clips of some of the more memorable musical numbers can be found on YouTube.)
Read the entire article at Atlas Obscura!