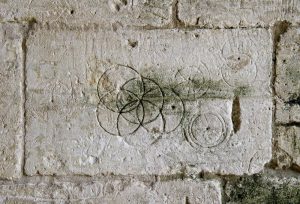 Apotropaic marks were simple patterns with a serious purpose: to keep evil and mischief out.
Daisy chains and "V" carvings hidden in the nooks and crannies of historic homes and properties across the United Kingdom, once thought to be carpenter's symbols, hint at Tudor superstition and folklore.
These apotropaic marks, or witches' marks, have been found in various properties throughout the UK – even in the Tower of London. Most of the carvings appear in buildings constructed between the 16th and 18th centuries.