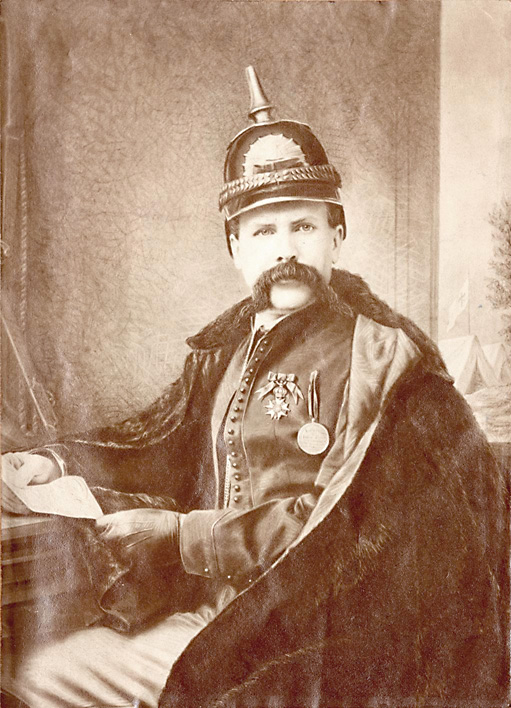 Please enjoy this guest article contributed by our friends at Haunted Pittsburgh, curators of Pittsburgh's supernatural history.
I know what you're thinking, "Next thing you're going to tell us is that the Seven Years War started in Western Pennsylvania, the modern zombie genre was born on Fort Pitt Boulevard, and polio was cured here!" (Actually, you have to come on our History Tour to hear about that.)
Pittsburgh has seen its share of evil. but perhaps the most evil person ever to call Pittsburgh home was a Victorian Era quack "physician" known as Dr. Francis Tumblety. Tumblety flitted about from city to city, making sure not to stay in any one place long enough for people to learn the truth about him. But for several years in the 1860s and 70s, he practiced his snake oil brand of medicine – peddling medicinal herbs and a supposed cure for pimples – downtown Pittsburgh. For a time, his office was in a building on Liberty Avenue that sat right here, where Two PNC Plaza is located today.
With a surreal overconfidence, Tumblety used to parade around town followed by a valet and two greyhounds. The Pittsburgh news media gushed over his acquaintance with the world's leading figures, including Abraham Lincoln, Lord Stanley (of Stanley Cup fame), Charles Dickens and many others. (The great abolitionist and orator Frederick Douglass described meeting the loquacious Tumblety: "[H]e seemed to have more tongue than ears.")
Tumblety was constantly getting into scrapes with the law, and he had a disdain for the truth that was matched only by a pathological hatred for women. He justified the latter by claiming that when he was young, he had married an older woman only to learn that she was a prostitute. In fact, he hated women because he felt they lured young men – whom Tumblety fancied – away from him.
Most chilling of all, in his medical office, Dr. Tumblety kept rows and rows of glass jars – filled with female body parts, which he proudly displayed to horrified visitors.
Tumblety used to travel the world, and he'd spend months at a time in London where he had two nieces — and that's where he was in the fall of 1888, when – yes, it's true – Scotland Yard regarded him as a prime suspect in the infamous "Jack the Ripper" serial murders. By chance, Tumblety was arrested on an unrelated charge of gross indecency – and the serial killings stopped. While he was out on bail, he fled to France, then to New York, and was never tried for the Ripper murders.
Tumblety insisted he was unfairly targeted because he was an American, and he accused the London police – every one of them – of having dyspepsia from ingesting beef, pot pies, and stale beer. Just to be safe, New York City police put him under surveillance. Tumblety eventually ended up in St. Louis, where he died in 1903, a wealthy man. Some very serious modern day Ripper experts think that he was, in fact, the most famous serial killer of all time.
If that's true, what accounts for such evil? Something in his past? Perhaps something other-worldly? I don't pretend to know, but perhaps this incident from Tumblety's time here in Pittsburgh holds the answer. He was riding his horse one day when he was thrown. The fall was so severe he was pronounced dead. His body was taken to his home to be laid out. Tumblety had been dead for three days when the undertaker came to bury him. But the undertaker determined that Tumblety was too tall for the coffin, so he started to saw off a leg – and that's when Tumblety came back to life.
Where he was for those three days no one knows — and perhaps it's good that we don't. We do know that Pittsburgh has a North Side and a South Side — and Dr. Francis Tumblety's stay here is proof that it has a dark side.